It's time to care about care.
Care about Care is an independent platform to enable everyone who works, uses or values Social Care to amplify their voices; connect stories about great care; or add to their initiatives about making social care more valued in our society and by the  government.
We want to showcase examples of why great care matters to people, the skilled work of care and support staff, and to link initiatives aimed at positive social care reform.
The campaign can connect all messages to make a bigger impact and louder voice.
We're asking you to click on the heart icon, and join in the conversation on social media by using the hashtag #CareAboutCare, and downloading the creative kit.
Together we can get a better deal for people who need care, and recognition for the unsung heroes who work in care.
Thank you for your support!
1010
Total number of clicks
Why should we
care about care?
50%
of councils have seen care homes closing in their area in the last six months
(ADASS)
105k
job vacancies in social care
(Skills for Care)
29%
reduction in local government spending power since 2010-11
(National Audit Office)
Care stories
Stories of how care has made a difference
Care stories
Sarah's story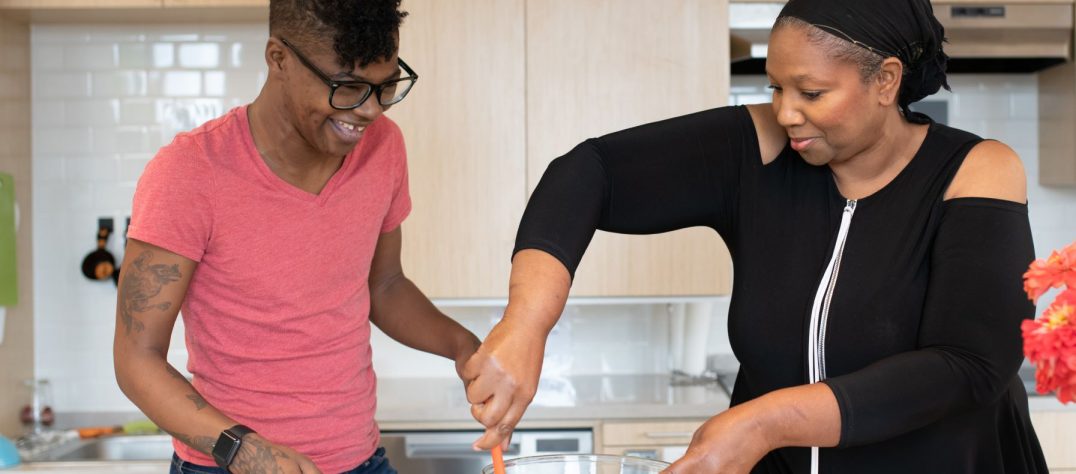 Sarah* is a young autistic woman with a learning disability, who had a very traumatic start in life. She was abandoned as a baby and rescued from an orphanage abroad in the late 1990s by an aid worker. She was adopted by an Italian family who moved with her to the UK. Despite being brought up in a loving home environment, the trauma and neglect suffered by Sarah as a baby led to her exhibiting challenging behaviour through her teenage years.
Eventually she was placed in a residential special school in Lincolnshire, away from her family in Surrey. However, she struggled to cope in a group setting, regularly exhibiting severe physical challenging behaviour and property damage. She ended up living alone in an annex; the space that she lived in was very bare and empty, and all property was bolted down to reduce the risk of damage as much as possible. She was not permitted to have any of her possessions with her in her room, and slept on the floor without a mattress or bed.
Active Prospects was approached by Surrey County Council to assess Sarah's needs and provide a supported living opportunity in the Surrey area, so she could be nearer her family. The Active Prospects Clinical Lead carried out a thorough assessment over a period of weeks, working with her key worker, teachers, occupational therapist, speech and language therapist and psychologist in order to understand her needs.
Active Prospects concluded that Sarah would require bespoke accommodation in a community setting in the Surrey area.
Sarah requires 2:1 support at all times, and needs to form very close attachments with support staff (perhaps as a result of the neglect she suffered as a baby). She prefers to have the same two staff (ideally a male and a female) for twelve hours a day. Active Prospects put together a small core team and carefully managed the rota to ensure that there was always a male and female support team working together for longer shifts.
Despite all of the preparation and hard work, Sarah's early weeks in her new home were extremely challenging. There was extreme property damage: Sarah destroyed all of the kitchen units, and removed the specialist window and door frames. She dug into the walls, removing most of the plaster. She even managed to pull the flooring up, which the builders had assured could only be removed with a pneumatic drill. Multiple mattresses were torn up, as was the sofa and other furniture.
Sarah also displayed some significant physical aggression in the first couple of weeks. However, her support team understood that she needed time to build rapport and form attachments, and slowly and steadily built trust and rapport with Sarah over a period of weeks and months, through intensive interaction, and physical, art and craft and sensory activities.
A change in behaviour
A year later, the situation has transformed. Sarah is a happy, confident, young woman who is great fun to be around. There has been no physical aggression, self-harm or property damage for months. Her team love working with her, and are able to enjoy more and more adventurous trips and activities: she has been on climbing walls; been out on a 10k run; visited the adventure playground; and been on multiple shopping trips. We have got a motability vehicle for her so she can go further afield.
Sarah loves art, and uses it as a communication method. She has produced some beautiful works of art, which are on display on the walls at home. Her family are able to visit regularly and spend time with her: they spent Christmas and her birthday together, enjoyed a family barbecue, or just hang out watching TV with her in her flat. She has also built friendships with some of the other people we support: for example, she has been to one of our other supported living services to have dinner with a friend and use the trampoline. At this service, she has been able to spend time in a 'snug' room watching TV, and hasn't caused any damage. In her own flat, she is now sleeping on a mattress on a bed for the first time in years.
In September, Sarah won a Most Aspiring Person award at our annual Star Awards for staff and people we support. She was even able to attend the black tie awards ceremony and pick up her award in person. Her flat has been refurbished, and there has been no damage caused.
* Not her real name.
Care stories
Angela's story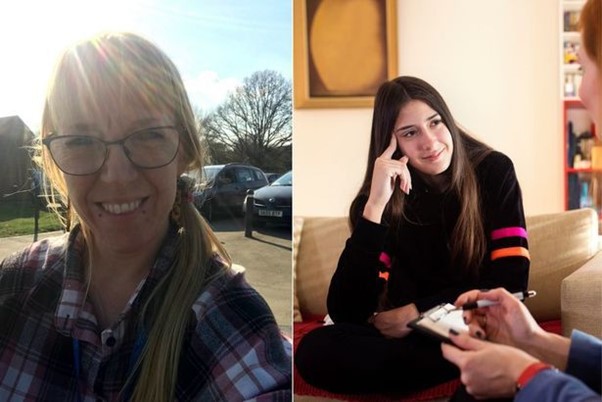 'They wanted a people person' – former bar worker realised she was perfect fit for dream career
Angela Wildy left behind hospitality jobs for a rewarding role in adult social care
Like many people, Angela Wildy always dreamed of having a meaningful career. Of going to work every day feeling excited and motivated for the day ahead and going home feeling proud and fulfilled. But she never thought it would be a reality for her.
She spent years serving in bars and restaurants – in roles she was good at, but didn't give her the sense of purpose she was craving and she was bored.
So after passing her driving test three and a half years ago, she decided to see what other options were open to her.
"I wanted some direction, because I never had any," explains Angela, 37. "I was resigned to the fact that I would always work in the field that I was working in. I didn't have much belief in myself, I didn't have much confidence in myself. I didn't think I had much of an opportunity because I wasn't qualified in anything or have the money to go to university or do further training to be able to access a new vocation."
But Angela was surprised to find out she already had the attributes that made her ideal for a job in adult social care.
"They were looking for a people person," she explains. "Someone not necessarily already qualified, but who understands people and is good at talking to people.
"I knew I was good at bar work and I knew I was good at doing waitressing, but I didn't really consider myself an all-round good communicator."
But Angela soon realised that many of the skills she practiced in her previous roles transferred perfectly to the role in community care, which meant she was able to find work in that area much easier than she ever assumed she would be able to.
"I realised communication isn't necessarily all about knowing all the right answers for everything," she says. It's about being a good listener, and showing compassion, and caring."
Angela was happy to discover that more specialist skills are taught on the job.
"There's lots of internal training," she says. "They'll teach you everything you need to know to fulfil your role, plus there are loads of different additional training courses you can go on, which aren't mandatory but the organisation will do what they can to see that you get that additional training in what you're interested in."
Attributes like compassion, patience and empathy allowed Angela to establish herself as an adult care worker, and two months ago she began a new challenge as a support worker at an all-female supported live-in service.
"The young ladies I support have a range of issues," she says. "They're mostly all very functional and independent, but just need some support with day-to-day things, from healthy eating to applying for work, and emotional support.
"I'm a sort of part agony aunt. You know what it's like being young – you're still tying to figure the world out, and when you have a disorder like autism, dyspraxia or mild learning disabilities, it's just trying to figure out the world a little bit different to others."
While social care can be challenging, being able to see the positive impact of the care she gives keeps Angela happy and motivated, and means she's never bored of work anymore.
"I enjoy the variety of the role," she says. "It's never what you expect it to be. I like being able to offer emotional support – watching people grow, helping people to aspire and to do better things with themselves.
"I love being in a position to give people confidence to explore their surroundings and make new friends and maybe inspire them to do work that they thought they could never be suitable for. Helping people to elevate themselves is probably the best part of the job."
Through support, understanding and teamwork, adult care workers like Angela make a huge difference to people's everyday lives – and that in turn has made a huge difference to Angela's life.
"Three and a half years on, if you'd have told me I'd be where I am now, I wouldn't have believed you," she insists. "It has really helped me, and given me more confidence."
Angela's employers are currently paying for her to do her Level 3 diploma, and she's excited about the next stage of her career when she qualifies. "I'd like to go on to do something with therapy or counselling – or possibly social work. There are so many avenues to take."
Care stories
Katie's story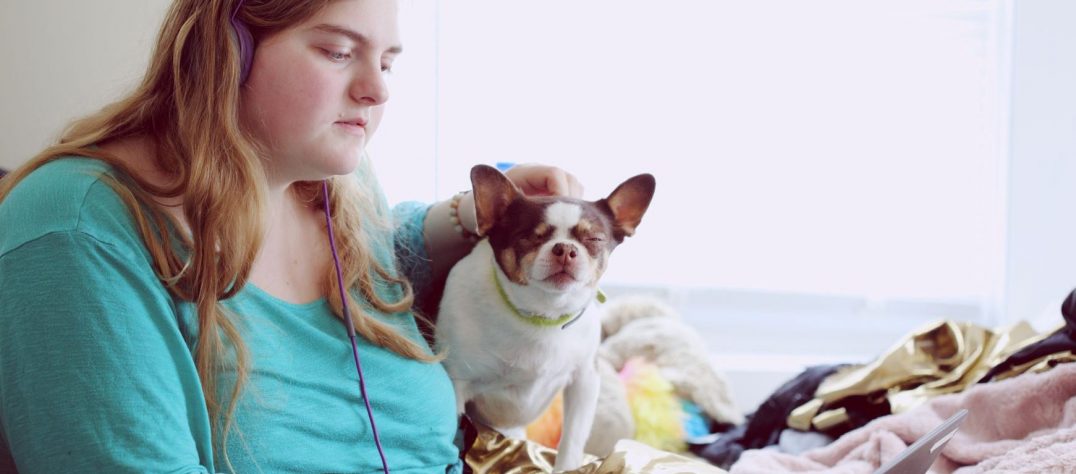 Katie* was diagnosed as a young child with learning disability, autism spectrum condition and sensory dysfunction condition, and was no longer able to live with her family due to her high sensitivity to loud noises, difficulty managing her anxiety day-to-day and tendency to cause damage to her living environment.
After leaving her family home, Katie spent a turbulent few years in a supported living communal home for autistic people. The care provided for her during this time was very institutionalised and disregarded her specific needs, meaning that her standard of living and happiness were non-existent. Katie was left to spend her time alone in an empty space with only a mattress on the floor and a locked set of drawers.
Katie was referred to Active Prospects in 2018 and the team quickly assessed that she would benefit from moving to her own, purpose-built home in a community setting.
Active Prospects developed bespoke accommodation for Katie to meet her specific needs. This included the removal of doors, adapting flooring, equipping the kitchen with certain safety measures and the removal of any visible pipes. Active Prospects created a safe home for Katie, but even more importantly her home allowed her to have space to be herself, without fear of disruption or unexpected noise.
Katie's support team are trained in Positive Behaviour Support, and she has a specialised care plan that considers all of her needs in detail. Her care is 2:1 at all times and the team use visual rotas to guide her to enjoy the day ahead. Katie's support team work closely with Active Prospects' Clinical Lead as well as professionals from partner organisations, to ensure her requirements are always met.
Specific care needs
Katie's specific needs mean that there is an ongoing risk of property damage, which would leave Active Prospects, as landlord, with responsibility for the repair costs. In the summer of 2021, during the pandemic, Katie had a challenging time adjusting to team changes and limitations to her own lifestyle. As a result, she caused property damage and showed physical aggression to herself and members of the team. Her positive behaviour care plan was reviewed and changes were made to support her differing needs. Investment had to be made to reassess her home to ensure it was once again safe.
All doors were changed to move both ways, star locks were used, radiators were replaced and fitted with robust protective covers, all furniture had to be tough, every pipe or wire had to be completely boxed, the kitchen had to be refitted and an emergency shut off switch had to be installed for electricity and water.
The quick response and changes made to Katie's home and care resulted in her challenging behaviour declining and she now shows signs of enjoying life once more. Recently, Katie has started clinical sessions within a sensory room. The aim is to develop her communication through speech and therapy work. This is another big step for Katie, and she has immediately started to find ways to demonstrate anxiety or enjoyment.
Over time, with the support of Active Prospects, Katie has become increasingly more comfortable in her home and confident in herself. Katie will now go on daily outings to do her favourite things, or head out to the cinema to see a film. However, the biggest progress Katie has made in the last few months is reconnecting with her family. There was a time when Katie would not see her Mum, she wouldn't allow her in the same house, let alone the same room. But over time she has felt secure enough to welcome her Mum back into her home. They now enjoy weekly visits and cook lunch together.
* Not her real name.